About Beakbox
BeakBox is not your typical bird toy – it is a smart and interactive musical companion for your pet birds that keeps them physically and mentally stimulated during the day. BeakBox gives your bird full control over their music. Tired of a tune? Press the lever and voila – a new song is playing!
Safety is our top priority! That's why our bird toys are made of 100% safe materials – pine and stainless steel. BeakBoxes don't contain rope, string, or any other materials that may cause strangulation or entanglement, or issues when ingested. Our bird toys contain no paint, dye, lead, or zinc.
What is BeakBox?
BeakBox is a unique musical bird toy that has been thoughtfully designed to provide cognitive stimulation through interactive music. Our bird toy lets your feathered friends play and choose music for themselves when you are away.
BeakBoxes come pre-loaded with songs we know your bird will love, but you can customise your BeakBox playlist at any time to include your bird's favourite songs or bird calls.
Customisable Playlist
With the BeakBox you can easily customise your playlist and upload your bird's favourite songs – just drag and drop mp3 audio tracks from your laptop onto the SD card.
Safety by Design
100% non-toxic materials, no paint or ropes, strings, or other materials with the risk of strangulation, entanglement, or ingestion.
Robust and Durable
Use your BeakBox as a learning tool, a fun bird toy, or as a cage companion to help ease separation anxiety.
Eco-Friendly
We care about the environment! Our BeakBoxes arrive packaged in shredded paper, perfect for recycling into cage-liner.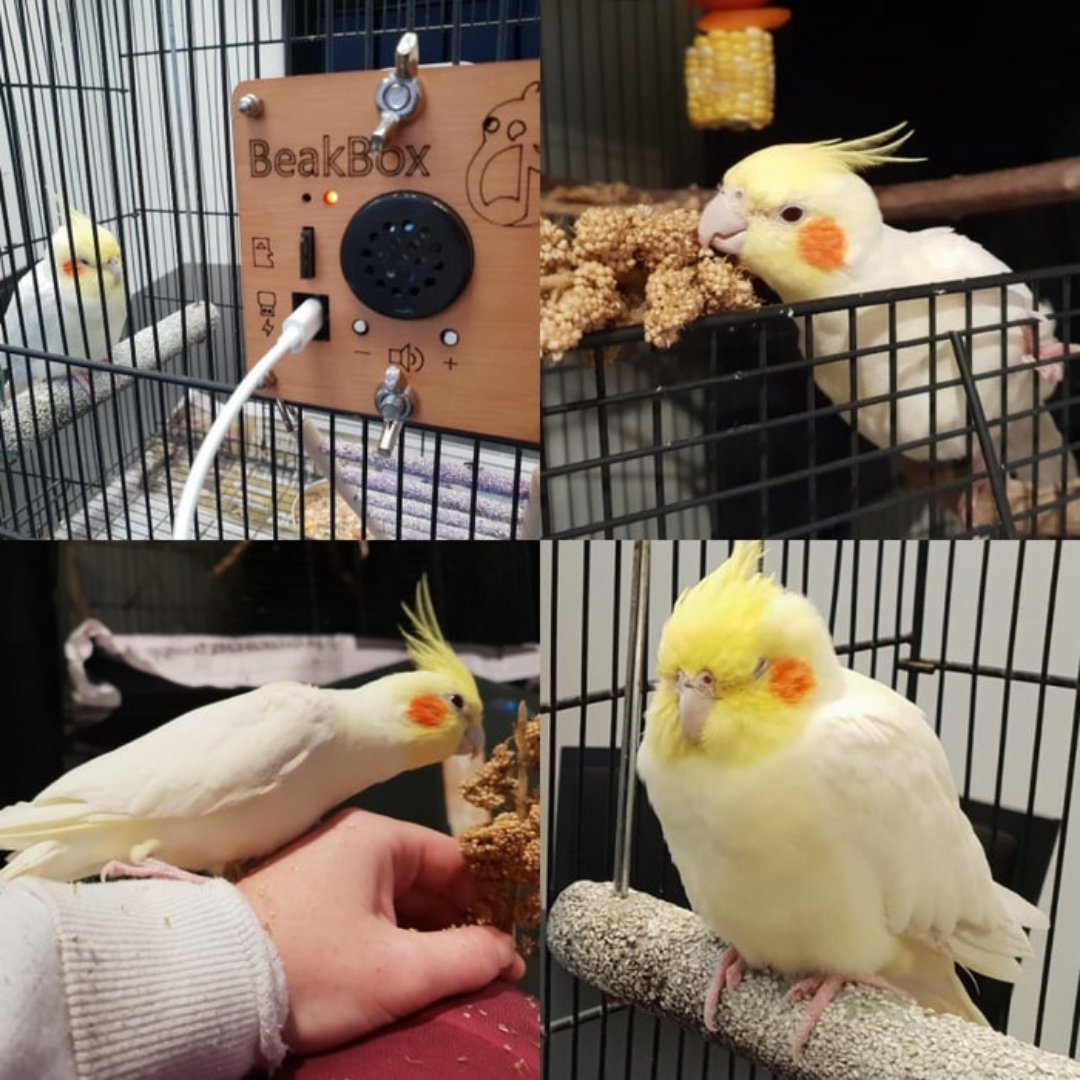 Easy to Install
First, insert the lever into the cage between the bars and screw the wingnuts on. Then insert a microSD card loaded with tunes into the slot and plug it into a USB port. Finally, press the lever and enjoy the music!
Powerful integrated speaker
Wi-Fi 802.11b/g/n 2.4ghz
Finished with stainless steel and NZ-grown Pinus radiata
USB power supply 5v 200mA
BeakBox is made of strong and beak-resistant stainless steel – it's stronger than titanium which is used for building spaceships! Our bird toys are designed to be indestructible and will last forever.
BeakBox is brought to you by our talented team. We came together as part of our company's internal innovation program, where staff are free to come up with awesome (and sometimes slightly crazy) ideas and then vote on and pursue the best ones. We're all technology professionals and have many years of experience building hardware and software products, as well as helping other people develop creative solutions for their challenges. We've been lucky enough to have had the time, advisors, backing to produce prototypes, and everything else we need to bring the BeakBox from a concept through to a complete product.
Visit Beakbox Website